Record your performances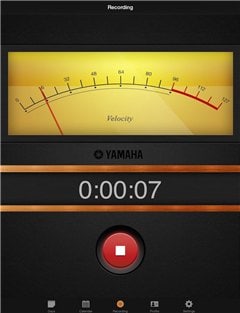 By connecting your MIDI instrument to an iPhone/iPad with the Yamaha i-MX1 cable you can record your daily performances in Piano Diary for later playback to your instrument, exactly as you played. Plus, don't worry if you lose your iPhone/iPad, as all performance data is automatically stored to the 'Cloud' in the Piano Diary servers! Simply log onto Piano Diary with another iPhone/iPad to restore all of your performances!
Monitor your practice time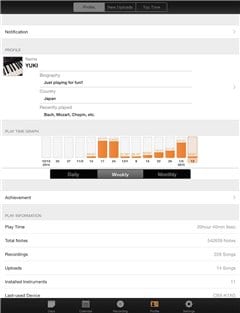 The "diary" part of Piano Diary keeps track of how often you practice, how long you've been practicing and even how many notes you've played. You can compare your practice sessions to other Piano Diary users. As you play more, Piano Diary rewards you by unlocking new sounds for you to try.
Upload your performances to YouTube
Piano Diary can also turn your MIDI recordings into audio. Simply add your favorite photos and Piano Diary will render your MIDI performance as audio to create your original slide shows. Upload the completed slideshow to YouTube so your friends and family can enjoy your performances!
Carry your performances everywhere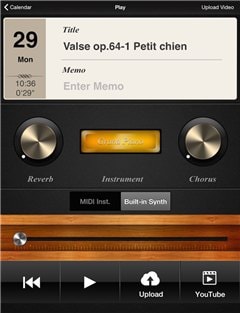 No need to carry your instrument with you! Simply disconnect the Yamaha i-MX1 Cable and you can listen to your performance from the iPhone/iPad using the Piano Diary software synthesizer. Enjoy your performances whenever and wherever you are - from the iPhone/iPad or over the Internet from shared YouTube movies.